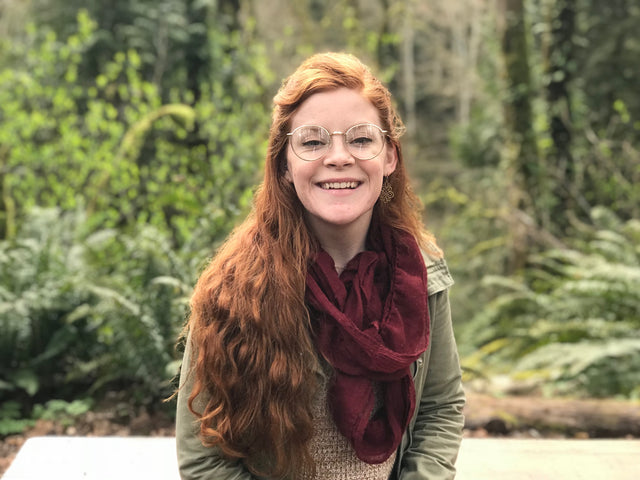 Changewear is committed to supporting women where they are. We believe that supporting each other, no matter the circumstances or story, creates a movement to empower each other. By celebrating our differences, sharing challenges and acknowledging our wins, we shine light on our tenacity, resilience and strength.
Changewear is pleased to present a series featuring inspiring women and their amazing accomplishments and impact. By highlighting and sharing each woman's story and passionate endevours, we can build each other up, spread the word, create a meaningful network of support and share stories of how women are Creating Change Where They Are.
Meet Sarina: 
We are pleased for you to meet Sarina Sandstrom. Sarina is a passionate entrepreneur and author of the new book, The Guide to Gusto. Sarina has made it her mission to inspire people to take action to do what they love. Her book is designed to help people succeed in business in life by utilizing their own unique talents and tendencies. She believes that by learning, loving, and leveraging yourself, you can live a joyful and fulfilled life. She is working to get this message out in the world and support as many entrepreneurs and individuals as possible through their journeys of self-discovery. We are so grateful to learn from Sarina and celebrate her mission and influence in creating change were she is.
Changewear: Please tell us about your book and business and how you came to create them.
Sarina Sandstrom: The last year has been a whirlwind of amazing opportunities for me. I was able to start my own freelance consulting business, finalize and publish my first book, and look toward my future of being an influential change-maker.
My book, The Guide to Gusto: 20 Ways to Learn, Love & Leverage Yourself to Unlock a Life of Happiness, Purpose & Productivity, is all about creating a life you love. We all want a happy and fulfilled life for our children, so why don't we take action to pursue this ourselves? I witnessed so many people making choices in their lives because of what they believed they "should" do, rather than what they "want" to do. I experienced this pressure myself and decided enough was enough!
This book is written to help people succeed in business and life by utilizing their own unique talents and tendencies. By learning about yourself, loving what you see, and leveraging what you discover, you can supercharge your reality to align with your deepest desires. The book is intentionally designed to be flexible for each reader's experience and offer real self-discovery evaluations in each chapter to help them take action. Do what you love! Life is too short not to.
On the same topic, I am an entrepreneur and personal development junkie. I believe in the power of positivity and using your authenticity to your advantage. I also believe that well-being is the key to entrepreneurial success. I help passionate entrepreneurs with strategy, coaching, and support services to align their businesses with their values, utilize their strengths, and launch a business they can feel proud of.
I continue to learn more about positive psychology and personal development, improve my writing and communication strengths, and take action to support entrepreneurs and students of life in their worth-while journeys to a fulfilled life.
CW: Change is a big part of our brand and we believe in effecting change where you are and that even the smallest change can bring about huge benefits. What are some changes that you made in your life that had great impacts on you or others around you?
SS: Change has been a huge part of my life over the last 6 years. I've moved 8 times in the last 6 years, twice halfway across the country, and I am a firm believer that nothing in life is a better teacher than change. Learning to embrace the natural ebbs and flows in life has been a key to my success and happiness in business and life. Like they say, change is inevitable, so fighting it is a poor use of energy. Seeing new places (I'm a huge travel junkie!) and meeting new people add the best sort of spice to life. The people I have met along the way have changed my life in so many incredibly positive ways.
Change isn't always easy, but it is always worth it. Spiritually, I believe that everything happens for a reason, and remembering this has helped me embrace the whirlwind of change that has been my life recently. Learn to love change...but do so from the place of always knowing who you are and who you want to be. Allow your values, goals, missions, and intentions to be the stabling constants in your life among all the exciting and inevitable change. You will grow from it, I promise!
CW: What are some ways that we can help support you? What would you like us to know?
SS: I'm always looking for ways to spread my message. Everyone deserves to live a passionate life filled with great enthusiasm...or gusto! My mission is to connect with others and inspire, encourage, and support them in discover
ing their authentic selves and taking action to live their lives in a way that challenges them to see their greatness and experience fulfillment and joy each day.
My hope would be to have you share my book with someone in your life who deserves to be their authentic, happy self. Share about my business intentions with an entrepreneur (or aspiring entrepreneur) or individual in your life who might be struggling to find clarity or take meaningful next steps. You can help connect me with people who deserve support in order to live a life they love.
CW: What are you most looking forward to in your immediate future?
SS: I am looking forward to continuing to learn, love, and leverage myself in order to grow as a writer and entrepreneur. I am currently loving reading about positive psychology, positive education, and personal growth in academia. I hope to discover strategies and tools that I can use to help myself and others and continue to grow my business. I'm also looking forward to my second grand European adventure this summer with my wonderful partner!
CW: Changewear is excited to support you because of the thoughtful and impactful changes your are creating. To allow us to follow you and advocate, please share your social media and contact information.
SS: You can follow me on Instagram, Facebook, Pinterest and Twitter, and check out my website for more about my business and writing. And please give my book a little love, as well! It is launching in October of 2018.
Sarina, Thank you for taking the time to be interviewed and sharing your greatness with our Changewear community. We wish you the very best as you continue sharing and pursuing your meaningful mission!
XOXO,
Michelle and The Changewear Team
Creating Change Wear (Where) You Are™